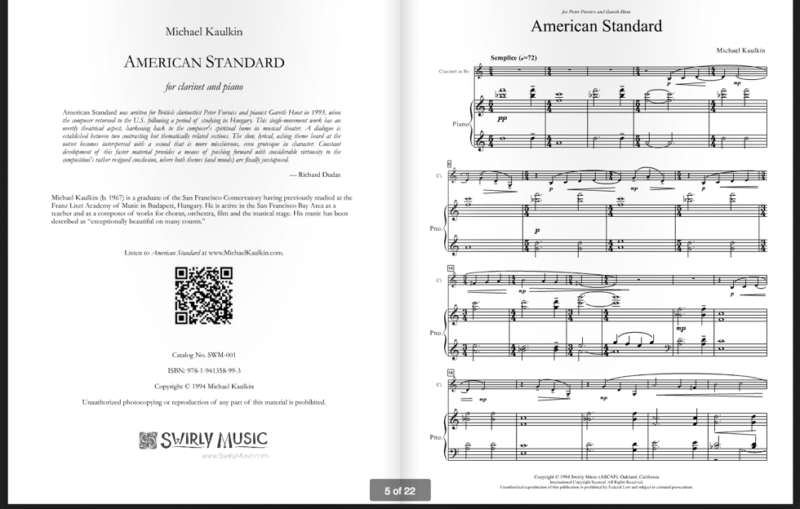 As composers we put so much energy and expertise into the creation of music and laying out the score properly that we often gloss over the superficial details.  In order to turn your score into a salable product you need to address things like the cover and front matter.
Although Swirly Music is not a publisher and cannot presume to nitpick about every detail of your score, we do want to ensure a level of quality and professionalism in the products we sell. Please consider the information on this page as you prepare your scores for listing on Swirly Music.  Buyer confidence will largely be driven by how well-presented your materials are.
There is no better resource for details on how to prepare your scores than the Major Orchestra Librarians' Association's MOLA Guidelines for Music Preparation. True, it is specifically geared toward orchestral music, but there is much to learn from it for any kind of printed music. It is worth paying particular attention to what it has to say about front matter, paper and staff sizes. With that as background, here are some guidelines and illustrations around what makes a well-presented score on Swirly Music.
Music Paper Size
We've all become accustomed to printing things at the standard "Letter" size of 8½x11, but with Swirly Music you can have your work printed at the larger standard music size. It can take a lot of work to rework a score for a different paper size, but it is worth it for the professional-looking final result.  Here are some examples of appropriate page sizes to consider.
Music for Solo Instrument or Chamber Music that Involves Piano – 9 x 12
If you look at most scores on music store shelves — whether piano anthologies, Dover scores, what have you — you'll notice that they tend to follow a standard size of 9×12. For most instrumental music and solo vocal music, you should consider redoing your layouts to accommodate printing at 9×12 for the best results.
Scores laid out for Letter size can also be blown up to 9×12 upon request, but if you redo the layout you have the opportunity to take advantage of more room for spacing the staves for better readability. In any case, your score will be professionally saddle stitch (staple) bound like the scores on store shelves. For bigger pieces with higher page counts, it is more practical to specify a coil binding.
Chamber Music Scores Without Piano – 5.5 x 8.5
The page counts for chamber music scores can really add up, so it's worth considering how much paper is required and what can be done to keep the retail price down.  In most cases, if the music is not conducted, the score is just for reference and can be laid out in fairly small type as a study score.  The most cost-effective approach is to lay it out for 5.5 x 8.5, where the paper used is the standard Letter size in landscape orientation and folded in half with saddle stitch binding.
Instrumental Parts
Swirly Music will accept parts at 8.5×11, but note that the industry standard is that instrumental parts for chamber and orchestral pieces should be 9×12 or 10×13.  The MOLA Guidelines mentioned above have more detail on other considerations like staff sizes and are well worth reading.
Choral Music
With choral music, keeping the retail price down is critical, because hopefully scores will be purchased in higher volumes and the price per copy is a factor in the buying decision.   Short a cappella pieces are traditionally published in "octavo" format.  Your choral scores should be laid out in pages of 6.75 x 10.5.  Choral scores published at 8.5×11 will be more expensive to print than the octavo size.
Other Situations
The guidelines here may not make sense for every situation.  If you have a score that is not in one of these categories, or is unusual in some way, feel free to run it by us.  Just write to [email protected].
Music Score Covers
Every score should have at least a very basic cover. Saddle-stitched Letter-size or 9×12 scores can be printed with a variety of cover stocks, including matte covers in various colors, printed in black, or glossy white covers printed in color.
If you don't have, or don't want to do your own cover design, there is a standard, basic Swirly Music cover that can be used for your pieces at no extra charge. Otherwise, your own "house style" covers are welcome, as long as they look professional.  For choral octavo scores, it makes sense to have a simple cover design in just black, again, in the interest of keeping the retail price down.
There are infinite possibilities around cover design, but if you're starting from scratch, keep it simple and clear.  Here are some general guidelines.
The cover should contain the following information in this order:
Composer Name (medium relative weight)
Work Title (most relative weight)
Instrumentation (light relative weight, maybe in italics)
Year (light relative weight)
Publisher
If you, as a self-publishing composer, have an entity name with a logo, it should be centered at the bottom.  Otherwise, just your name and web address would be suitable.  You may also opt to include the Swirly Music logo here as in the example, but it is not a requirement.
Front Matter
The first page inside the book should be a simple title page with the same information as the cover, only with less in the way of design.
Since it is standard to begin the music on an odd-numbered (right-facing) page, the opposite (left-facing) even-numbered page should be used for a short bio and/or program note about the piece and any performance notes. This page should also contain duration and a full copyright statement and, optionally, a Swirly Music logo and catalogue number.
If you have your own convention for catalogue numbers, you may use that here. Otherwise, the catalogue number convention will be a three-letter code made up of your first inital plus your last initial plus the last letter of your last name, followed by a three digit number. The numbers are simply incremented as you submit scores. So, for example Béla Bartók's first score submitted would be BBK-001. Knowing this convention, you are free to prepare your scores including a catalogue number.
The first page of music should also have a copyright statement at the bottom. Per our Distribution Agreement, Swirly Music assumes that the composer has registered the copyright with the Library of Congress.
Scores submitted to Swirly Music are expected to be in the form of one complete document including the cover and front matter.  Here is a video about how to merge PDF files into one PDF document on a Mac.
In general, browsing the scores here in the Swirly Music store is a good way to get a feel for how your finished product should look.  Click "View the score up close" on any given piece for complete examples.
Feel Free to Ask
This is just a brief overview of things to think about in preparing your scores.  It's possible your exact situation is not addressed here. Please feel free to run any special situations or questions by us at [email protected].
Filed under: Composer Tips